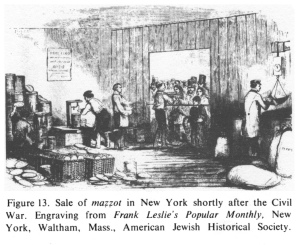 Wednesday evening Rosh HaShanah, the Jewish New Year, begins. Unlike January 1 the secular New Year, it's not celebrated with raucus parties and televising a young drunken crowd in Times Square, herded into animal-like stalls, waiting for the ball to drop for the nascent year. Judaism marks the years more solemnly. Since, according to the Jewish calendar our New Year will be 5775, we have been doing this for a while so perhaps we should pay attention and declare this the year of the new Jew.
Jewish children are taught that on Rosh Ha Shanah Ha Shem ( G-d) opens the Book of Life and decrees what will happen to each individual. At this time, and until Yom Kippur, we have a chance to make amends and start anew to behave in a better way, so that our Judge and Creator will have mercy. Observing our political scene and the many Jewish organizations who don't firmly stand for Jews,Israel, or the American ideals I believe we are in dire need to make changes.
It is time for Jews to stand up for themselves. We have to stop acting ashamed,embarrassed, and afraid. We have done nothing wrong, unless of course, civilizing the world is wrong. Jews don't cut off people's heads, murder their wives and daughters,or make slaves of anyone who doesn't believe the way they do. The Jewish land of Israel is an oasis of freedom in a desert of Islamic totalitarianism. So why do we cower and compromise with those who want us gone? Why do we negotiate and give credence to organizations that want us to disappear from the face of the earth?
Our president praised the contributions of Muslims in America to an Egyptian audience
"The contribution of Muslims to the United States are too long to catalog, because Muslims are so interwoven into the fabric of our communities and our country."
Read more at http://joeforamerica.com/2014/07/obama-please-list-muslim-contributions-america/" I still have't seen the list. President Jefferson knew that in order to trade and transport freely on the seas we'd need a special navy force called the "marines" to fight tne Muslim barbarians that captured Americans as hostages and slaves. Is that the contribution he spoke about?
Jews. on the other hand, have contributed from the very beginning of this country. Without the banker Haim Solomon there wouldn't have been an American Revolution. Many southern cities like Charleston, South Carolina were enriched and settled by Jews. The next time some smart aleck proposes more boycott derangement syndrome action against Israel we should suggest he throw away his jeans since they were invented by Levi Strauss, another American Jew. And how about Hollywood? Instead of cringing and denying when some racist screeches "the Jews own Hollywood" we should proudly declare they invented Hollywood, the fashion industry, polio shots, and the NAACP.
Meir Kahane, who was murdered by a Muslim terrorist, was right. Jews have to protect themselves, but at the same time we must be proud of who we are. We are a people who bring innovation and creativity to the world. Robin Williams was asked by a German reporter why there were so few German comedians. His answer? " You killed them all." If we want a different future, then 5775 must be the year of the new Jew.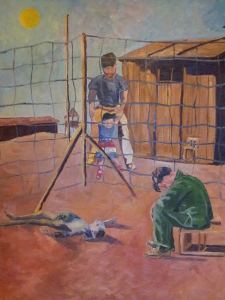 Painting: The Endless War by Leviticus
leviticusfineart.com