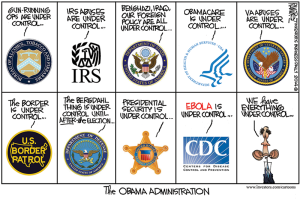 Years ago when my daughter started dating I told her to watch what people actually do, not what they say. Talk is cheap, but behavior is how we judge character. My former husband would tell me he loved me every day, but when I told him he would lose his family if he didn't put the vodka bottle down he couldn't manage to do it. Taking responsibility for the welfare of my children, I decided financial and emotional obstacles were worth the cost. I have never regretted that decision.
Our president and his minions in the government have demonstrated their lack of character time and again. As citizens we live under the government's ageis. That's their job. Our job is to monitor them and keep them in line. We have learned our president and his officials are either incapable, as some pundits claim, or unwilling to do what's right for their citizens. Now, besides all the government sleight of hand with the IRS, Benghazi,Seal Team 6, Fast and Furious, not to mention the president's mysterious background, we are faced with ebola and the entero virus, which has already killed seven children.
Last week our commander-in-chief deployed 4,000 soldiers of the 101 airborne division to "fight"ebola. That was after firing almost 200 generals and other high ranking military personnel who didn't agree with the Party line. Where are the protests, screams, and general civil disobedience of the parents of our volunteer soldiers? If my child were being sent to West Africa now, I would tell him or her to disobey orders. Jail and/or a dishonorable discharge is certainly better than being sent to the center of a fatal epidemic without proper training and safety precautions.
Where is the outcry? Where are our men? What is it going to take to get our country back? Our president has demonstrated his lack of character over and over again Eric Holder thinks that because he stepped down he is no longer responsible for the crimes he committed. Lois Lerner thinks she's okay because she was " following orders." Hillary Clinton, responsible for Benghazi, Whitewater, and a love of the Muslim Brotherhood, has the chutzpah to run for office again.Our country has been stolen from us by a bunch of America hating thugs and it looks like the only thing we can do is cry.
Henry David Thoreau, who used to be mandatory reading for American students, stated "That government is best which governs least." I wonder what he would say about a government that disdains its own people, but cherishes the idea of cheap labor at the cost of human lives. According to George Orwell,"Political language… is designed to make lies sound truthful and murder respectable, and to give an appearance of solidity to pure wind." Obama has been a master of political speech and was elevated to the position of president based on that. He has damaged our credibility and standing all around the world.
Now is the time for civil disobedience. More than 1,000,000 people got on trains, buses and planes in 2009 to show our contempt for the government's fiscal and social plans. Although it was truly grassroots, and drew more people than the 'Million Man March," it was ignored. The March for Life gets very little attention every year, but a dozen people show up for a pro abortion rally and the media makes it look like a rock concert. Germany was consdered the height of culture when the government slaughtered millions.FDR called Stalin "Uncle Joe" while he killed millions or sent them to the gulag. It can't happen here because this is a country based on morals and character. Or can it?