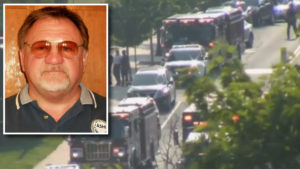 Our country is on fire and it looks like gasoline is being poured on  daily.  The animosity and lies against President Trump infects our country and  unfortunately the poison even affected my own home.  After the tragic and despicable shooting of  Representative Scalise I decided to reframe the hatred: to put the argument in non political language.  The Lefty self hating Jews are going to scream even louder, but  it looks like they slept during Hebrew school and never learned that gossiping, spreading lies, and  defamatory speech is against our religion. The taboo of  lashon hara, or having an evil tongue; is written in our Torah more than thirty times and is the reason Miriam, Moses's sister, was afflicted with leprosy as well as the Israelites forty year march in the desert.
The law doesn't just apply to Jews. As anyone who is a true Christian will admit, Jesus was a Jew. Living in the South for many years, I learned that many bible based Christian religions study the "Old Testament" as well as the New Testament. The religious ethos of Christianity  is built on the laws of Judaism. As a matter of fact, the great and famous rabbi Hillel stated "Do not do to others what you do not want them to do to you," while Jesus was growing up. Sound familiar? The point is, since we're still a  Judeo- Christian country, isn't it time to examine our behavior?
People my age grew up with  the platitude " Sticks and stones may break my bones but words will never hurt me."  Judaism teaches the polar opposite. As a matter of fact, we beg G-d's forgiveness for the sins of improper speech more than a dozen times during our Day of Atonement, Yom Kippur.  We are taught that the tongue (lashon) can be used as a weapon to destroy someone's life.  The ramification of this can be read in the news and seen on TV every day. The domino effect of rumors, gossip, and plain malicious language has turned  hatred into a political tool.  This shouldn't be surprising since we have seen since the 1970's how  Fatah and Hamas rev up its base with hate speech  against Israel . Invoking malicious and incendiary lies for political gain always ends in mayhem and murder as we saw in the assassination attempt at the Congressional baseball game.
We live in country that guarantees  our freedom of speech and individual freedom. That gives us the right to disagree and have different opinions about our government and politicians. It doesn't give us the right to ruin peoples reputations.One doesn't have to be a psychologist to understand that human beings have different opinions and tastes. Some people prefer chocolate, others vanilla, and some dislike ice cream entirely.  Let's stick to the issues, debate the issues, and forget lashon  hara before we see more violence and destruction.