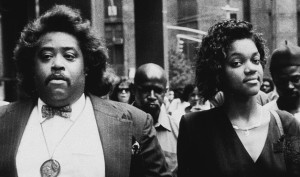 There were two stabbings at the same high school in Broward County, Florida  a few weeks ago  here and here Unfortunately both attackers could have been the sons of our president. Note that the violence was perpetrated with a knife both times. The Left's thoughtless slogan " Guns kill" was proven wrong once again. It is people, and only people, who maim and murder, assault and rape, kidnap and torture. Obama said Trayvon Martin could have been  his son.  Mr. Obama said nothing when  this other son was  stabbed  by one of his own ethnicity. The Chicago bred Broward Superintendent of  Schools Robert Runcie stated,  "We see no concern about the safety of our students at the school," and it's"a good school." Maybe it is in Chicago, where the number of murders  per year number in the thousands. During Easter weekend  nine more people were killed and more than 36 injured. 
When a  proven thug  and  conman like Al Sharpton is given prominence on TV and  has clout with the political class  and Jessie Jackson, pioneer in the race  grievance industry by PUSHing  extortion to an art form is elevated to a position of respect, our country is in trouble. Add ex-felon thug rappers making millions of dollars from the society that they constantly denigrate, while belittling women as mere sex objects, and we have a coarsened society. All of these men should be decrying the behaviors that ruined a generation of their community. Instead of  hating "whitey" or "honkey" or whatever we're being called theses days, it is time for self examination.
It is time for leaders  of all religions  and colors to come together and decry rampant sexual promiscuity and single motherhood. The nuclear family is the lynch pin of society. A boy learns how to be a man from observing  and being with his father. One of the tragedies of slavery is that families were torn apart. In those terrible years fathers wept when their children were sold to another plantation.  Now men decide to leave their  children  with impunity. The problem is that we see the consequences of the desecration of the family everyday. Isn't time that leaders started talking about this toxic reality.
Children need a father and they need a mother. Boys learn how to be a man from their fathers. Girls gain confidence and  important concepts like how to be treated with respect when they see their mothers treated that way. Cliven Bundy was interviewed by the New York Times and his empathetic and valid comments were edited to smear him and change the focus of the story from government over reach to the marginalization of an "old ignorant racist" who  the public shouldn't take seriously.
I read  articles and listened to talk radio and cringed as  so many pundits folded, based only on an interview  from the New YorkTimes which they decry everyday. There is no doubt in my mind that segments of our society are disenfranchised.  As a society; however, we have made great gains. Government welfare programs and intervention into family life have proven disastrous. The  media driven "philosopher" Rodney King  exclaimed" Why can't we all get along?"It won't happen while every word is parsed and lied about and then the people we read and respect cower and back away in fear when a bully whispers the word racist. Truth is not racism.
<